updated: Feb 23, 2020
Here is a small sample of the myriad galleries that have been created to showcase both artists work and collectors crypto art collections in the Virtual World of CryptoVoxels.  Click on the gallery name to visit in CryptoVoxels.
A new addition to Gangham, Origin City – WizardX showcases some of the best cryptoartists in 2020: A playground for the evolution of virtual galleries displaying non-fungible blockchain artwork.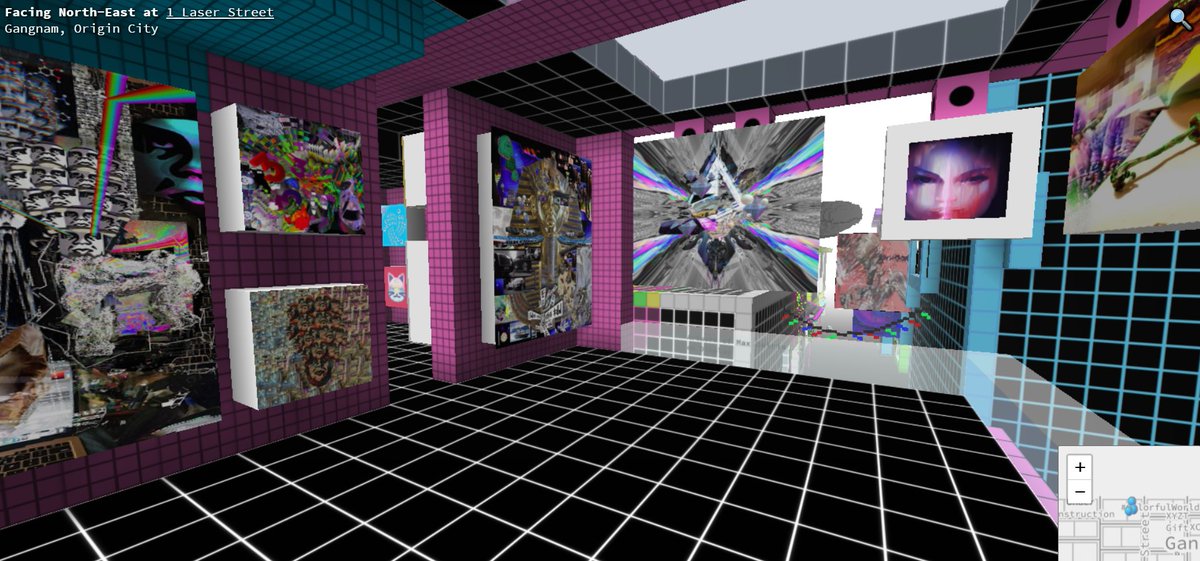 [email protected]'s Crypto Art Stadium
Matthew @ CENT's parcel built out by MoneyAlotta in the Hiro District in Origin City: showcasing some of the most prolific artists in the crypto art space.
'LAST CONFIRMATION' GALLERY. NORMAN HARMAN X ROBNESS CYBERPOP
Robness came up with sum'fn with Normal Harman heurrr…
One of the finest voxel designers you'll find, Alotta Money does stunning graphic design as well as Crypto Art works. Delivering a serious message about Crypto adoption, but with an unparalleled sense of humour, Alotta Money's gallery features propaganda posters, video arcade machines, and a working Tether printer.
Black Box . Art
As an artist and collector, this gallery features works by a wide variety of artists.  One wall is dedicated to a 'feature artist' on a rotating basis.  The 'Black Box' embodies the chaos and fertile intermingling of the Crypto Art community.  It is intended to be the exact opposite of a 'White Box' gallery.
The Rubix contains something for everyone – from the top priced work ever to be sold on SuperRare (Matt Kane's 'One of Us') to a selection of Marble Cards in the basement, art collector @conlan has created a space for all to enjoy.  Enjoy his unique navigation system, clicking the links as you would press the buttons in an elevator.  The outside of The Rubix is just as interesting as its content, so be sure to have a wander outside too and look around!
Skeenee is a Madrid based Belgian artist (who is also a tattoo artist).  He creates artwork based on his own drawings of animal skulls.  Detailed and beautifully rendered, his distinctive style is recognisable anywhere.  In his gallery you will find a combination of his digital artwork and NFTs as well as art available in prints and links to original art on his website.
If you like retro, you will love Studio 402.  There is a definite retro tech theme to Connie's work, imaginatively represented in works that truly look great anywhere.  This gallery was one of the first 'open space' galleries (rather than being housed inside of a building).  It was a pivotal design, which led to many more builds following suit.  So although Connie may focus on retro as a theme, he definitely sets the standard for the future.
The Unity of Multi gallery is a wonder in itself.  A very spacious gallery, with architecture to rival the amazing collections on the walls.  This space feels like a traditional museum space, and it is filled with the art that is destined to be the basis of museum collections of the future.  A must see for any visit to CryptoVoxels. The space is big, so be sure you enjoy it all!
Lastly, not a gallery but an essential of the CryptoVoxels world.  The Portal Hub.  (If only we had these in real life!)
If you ever want to know what's going on in CryptoVoxels, then look no further than the Portal Hub.  It is perfect place to keep up to date on new happenings in world and offers suggestions of new places to explore!
Additional VR Galleries